There is a café space within the store for you to relax.
Everything on the menu is authentic, to match ICHIJI's Bean to Bar Chocolates.
Please enjoy ICHIJI's carefully selected menu to your heart's content.
※All prices include tax.
MENU
All drinks include bean to bar chocolate.
ICHIJI Select Coffee from
"TAOCA COFFEE"
Coffee beans are purchased from specialty coffee shop "TAOCA COFFEE".
Each cup is brewed carefully by hand drip.
Enjoy the top-quality flavor of a product that has received high ratings even by international standards.
ICHIJI Original

Chocolate Drink
A drink made with a generous amount of ICHIJI's Bean to Bar Chocolate.
It is our café's most popular drink.
ICHIJI Select

Tea from "Uf-fu"
We have selected tea leaves from the tea specialty store "Uf-fu".
Enjoy the fragrance of the original all-natural tea with no use of artificial fragrances.
ICHIJI Select

Soft Drinks
ICHIJI Selcet

Alcohol
ICHIJI's Bean to Bar Chocolate goes very well with alcohol.
We encourage you to try it for yourself.
Red wine/¥1,08090% France Saint-émillion Merlot,
10% Cabernet Franc
White wine/¥1,080

France Bourgogne Chardonnay

Sparkling wine/¥1,080

France Loire Chenin Blanc 100%

Beer/¥864

YEBISU Beer
ICHIJI Select

Scones with "Jersey butter"
Our scones are made with rich, flavorful flour from England and authentic Jersey butter,
made from completely lineage-controlled raw milk.
Fragrant and crunchy on the outside and soft on the inside, it has a bouncy texture.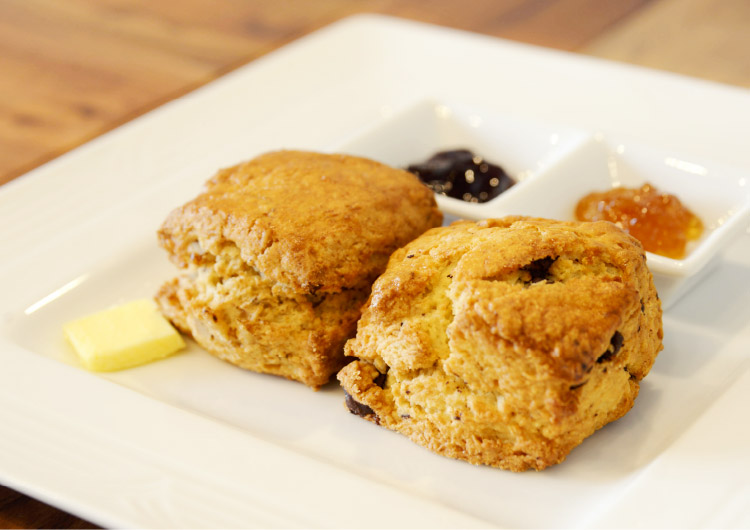 Scone/¥864
(comes with Jersey butter and jam)
ICHIJI Select

Quiche from "Kobe Kondo-tei Quiche ya"
A "household food tart" which is a local cuisine from the Alsace region of France.
You can have it as a light snack or have it with wine.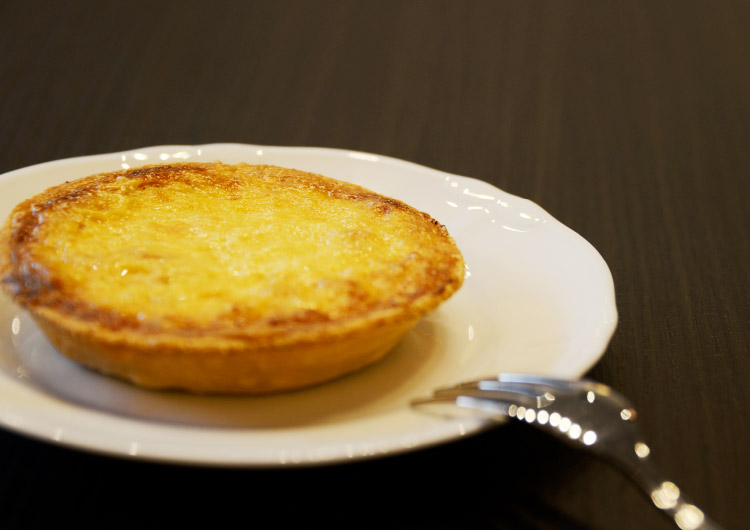 Quiche Lorraine/¥864
Blue cheese quiche, Quiche of the day/¥972 each
ICHIJI Original

Sweets
A dessert made with a generous amount of ICHIJI's Bean to Bar Chocolate.
You can flavor the crunchy and fragrant cacao nib.
Take-away menu other than chocolate
Carefully selected from Jersey, a purveyor of British kings, by ICHIJI. You can enjoy these products in the café as well.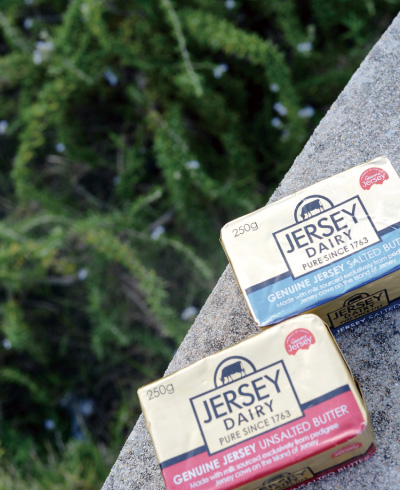 JERSEY BUTTER
(unsalted/salted)
Authentic Jersey butter manufactured in Jersey. Produced from the raw milk from approximately 3000 completely lineage-controlled Jersey cattle. It is known to be creamy with a strong flavor, and full of carotene.

2 types – unsalted and salted – are available.
The unsalted type is best with simple bread and scones, as it allows you to enjoy the flavor and depth of the Jersey butter. We also recommend mixing it with pastry dough, or take advantage of its creaminess and use it to make buttercream or raisin butter.
The salted type has a solid salty flavor, which, combined with the flavor of Jersey butter, brings out the flavor of bread. It is recommended for dishes such as seafood sauté or buttered potatoes.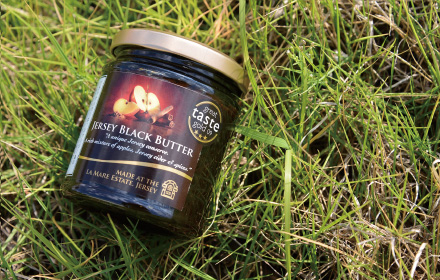 BLACK BUTTER
This is a traditional Jersey gem that has been loved and cherished from olden times. Apples and cinnamon are cooked to create this unique flavor. In Jersey, anything that is in a paste form is called "butter", and therefore apple jam is also called black butter. Black butter is a traditional delicacy of a Jersey farm.
※ It is called black butter but does not include any dairy products.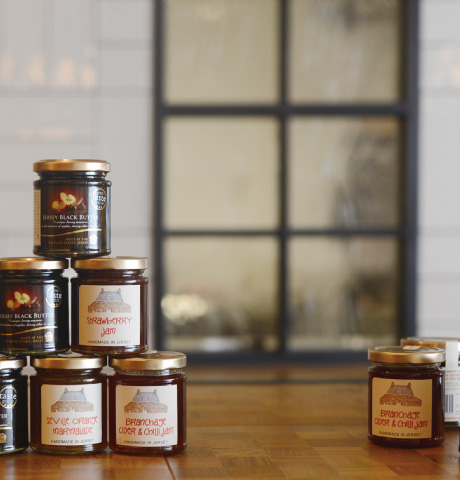 JAM
【Cranberry】Whole cranberries cooked with Pinot Noir – a true gem.

【Raspberry】Enjoy the texture and sweet and sour flavor of raspberry.

【Strawberry】The perfect choice for when you're tired of trying new things. This staple product is loved by everyone.

【Marmalade】You will be drawn to the rich yet refreshing and slightly bitter flavor of orange peel.

【Cider & chili】A new type of jam, spicy from the chili added to an apple jam base.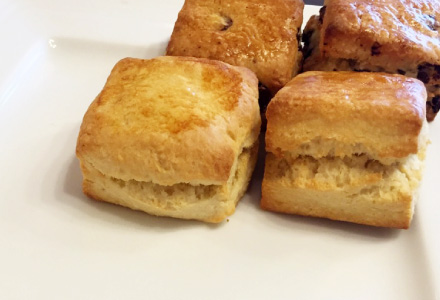 SCONES
(Plain & Chocolate)
Our scones are made with flavorful flour from England and authentic Jersey butter. It is fragrant and crunchy on the outside, soft with a rich flavor on the inside. Please enjoy it with jam and butter from Jersey Island.
CAFÉ GALLERY
Please make yourself comfortable. A smoking room is also available.